On August 1st, I
set a goal
for myself. I decided that by the end of the month, I'd weigh under 150 lbs. It didn't matter how far under, so long as the scale came in under 150 lbs.
It's August 31st, & here is the result of my clean eating plan: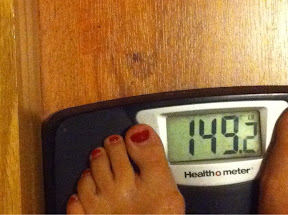 I freaking did it!!
I lost 7.2 lbs. in the month of August. Woot! And if I hadn't spent the weekend "cheating," it might actually have been lower... but that doesn't matter. Because I did it.
Now I have to figure out the next weight loss challenge. I'm not sure what a next "realistic" step would be, but I've got my eyes set on 145 lbs. As time goes by, I'll keep you posted! But know this: I'm not done. I will continue to eat "clean" & see what happens... because so far, the results have been awesome.
- Posted using BlogPress from my iPhone